Aquabot Turbo T2 In-Ground Pool Cleaner with Free Caddy
The Aquabot Turbo T2 works great for your in-ground pool. It can adapt and clean any shaped pool you place it in! Any surface can sustain its cleaning power including (vinyl, gunite, concrete, and fiberglass) tile is excluded from this list. It boasts an impressive wall transition at a full 90 degree angle to clean every portion of your pool walls and floor. Not only does it conserve energy, but it comes with a filter bag capable of trapping particles up to (2 microns). It has a convenient bottom loading filter basket to trap unnecessary dirt, debris, and organic remnants that could contaminant your pool water.
Features include:
1 hour clean time
Auto shut off
Self-contained reusable 34 quart capacity filter
Cleans 5,000 gal/hour
Cool touch all weather power supply
60 ft self buoyant, Kevlar cord. 1st year bumper to bumper warranty, 2nd and 3rd year motor warranty (motor & power supply). Weighs 17 lb.
Note: This item is not eligible for promotions or specials.
Shape: Rectangle, Lap, Kidney, L-Shape, Round, Oval
Surfaces: Vinyl, Gunite/Concrete, Fiberglass
Pool to Wall Transition: 90 Degree Angle
Electrical Requirements: 120VAC/60Hz
Power Consumption: 230W
Dimensions: 17 1/2" X 15 3/4" X 11 1/2"
Weight: 19 lbs
Cable Length: 60'
3 Year (1st yr. 100%, 2nd 3rd yr. limited).
Helpful Tips & Useful Information:
Cleaner Start Position:Holding the Floating Handle, submerge your cleaner upside down, and gently rock it back and forth under the water to allow any trapped air to escape, which is critical for proper balancing or it may not clean and cover your pool as designed.

While submerged turn upright, then let go allowing your cleaner to settle to a level area on the pool floor near the shallow end. Starting it on an inkling (like a deep end hopper) may cause the cleaner, program and sensors to mistakenly consider the incline as the floor, and conversely on the floor as the wall. This would offset its cleaning program and coverage, resulting in missed areas. Be sure to start the cleaner on a level surface every time.

Turn ON Power Supply to begin cleaning.
Setting the Power Supply Timer (Internal and/or External):If your cleaner has an adjustable Dial or Digital timer, you can set it for Continuous Run or Internal Timed Operation. Power Supplies may be connected to an external, separately purchased timer, such as a house-type timer or pool control system. In this External Timed Operation mode your cleaner can externally be set to automatically turn ON/OFF as needed.
Continuous Run Operation (C-Run):
Continuous Run mode means that the cleaner will operate continuously until the ON/OFF Switch is physically pressed OFF or an external time source automatically turns OFF the power to the Power Supply. When manually pressing OFF, to restart its operation you must physically press the Switch back to ON...
Doheny's Lowest Price Guarantee
Shop with confidence at Doheny's.
Our volume discounts guarantee the absolute lowest prices on all of our products: swimming pool supplies, chemicals, equipment and more. To prove it, if you find a lower total delivered price by a licensed and authorized pool supply catalog or website (excludes auctions), we will refund you the difference. We will even guarantee our Low Price for 30 days after your purchase. Simply contact our Customer Care Team at: [email protected] or call us at 1-800-574-7665 to report the lower price. After verification, the difference will be promptly refunded. Doheny's is not responsible for inadvertent price or text misprints or errors. Some restrictions apply - call for details.
Doheny's Shipping & Delivery Services
Free Shipping Details
Doheny's Pool Supplies Fast has Free Shipping! This not only covers our brand name chemicals, but also our most popular swimming pool supplies.
A handling fee will be applied to all orders. For certain products, a freight charge may be applied.
| | | | |
| --- | --- | --- | --- |
| Order Total: | $0.01-$25 | $25.01-$100 | $100.01+ |
| Handling Fee | $8.99 | $9.99 | $10.99 |
Next Day Delivery Details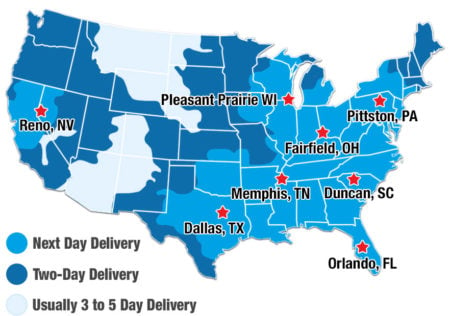 Doheny's is pleased to offer free next day delivery at no additional charge to most of the US for all Doheny's brand chemicals and many of our most popular swimming pool supplies. Next Day Delivery Service does not mean Next Day Air, but simply that your qualifying products will be shipped from the warehouse closest to you resulting in delivery the next day.
Some details regarding this service:
Other than for Pleasant Prairie, Wisconsin, not all products are stocked at all locations and therefore not available for next day delivery. Only those items with a Next Day Delivery designation on the product page can be expected to arrive the next day and orders must be placed by 4 pm local time (exceptions include areas serviced by our Florida, Texas, and Tennessee warehouses: Florida by 2 pm, Texas by 2:30 pm and Tennessee by 3 pm).
If you reside in the next day delivery area served by our Pleasant Prairie facility, order in-stock products and place your order by 4 pm CST you should receive your order the next day (except Saturday or Sunday). This applies to products even if they do not have a Next Day Delivery designation.
Because next day delivery is not guaranteed for standard service and residential deliveries are made only Monday through Saturday though Saturday delivery is not guaranteed, there is a chance that our product will not arrive the next day. While we try our best, unexpected demand can cause products to occasionally be out of stock or create a warehouse backlog that also can prevent shipment the day of the order.