Doheny's ClearClear 12Mil Solar Pool Cover, 7 Year Warranty, 16x40 ft Rectangle
ORIGINAL All Blue
Extend your swimming season and save money with our original, all-blue pool solar cover. Fantastic heat retention for a minimal cost. 5 mil includes 1 yr warranty/ 90 days full warranty. 8 mil blanket includes 3 yr warranty / 1 yr full warranty. 12 mil includes 6 yr warranty / 2 yr full warranty.
WHY CLEAR-TEK?
CLEAR-TEK BEATS REFLECTIVE COATED SOLAR BLANKETS
After many years of research it's been proven that the best blanket for raising and maintaining water temperatures in your pool is a clear solar cover. That's because the clear cover allows the sun to penetrate and warm the pool; unlike experimental solar covers that feature thick, reflective, aluminized coating and reflect the sun away from your pool. Plus, Clear-Tek Solar Covers last longer because they maintain their flexibility and don't become brittle like dark colored, opaque covers.
CLEAR-TEK RAISES WATER TEMPS UP TO 15F
Our Clear-Tek Solar Cover works great. By allowing the warm rays of the sun to penetrate your pool directly, it raises water temperatures by as much as 15 Fahrenheit. At night the cover helps seal in the warmth to maintain optimal swimming comfort.
CLEAR-TEK MAKES YOUR POOL LOOK BETTER
Pool owners love the blue color of their pool water, and our Clear-Tek Solar Covers let the blue shine through. The covers keep debris from entering your pool, and they prevent chemicals from dissipating due to exposure.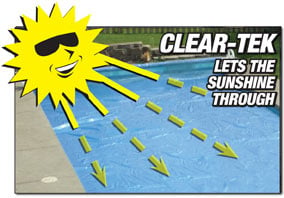 Clear-Tek Solar Covers allow the sun's rays to penetrate and warm your pool water.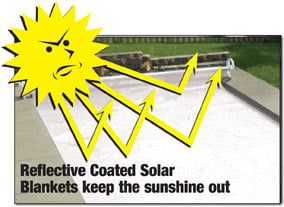 Reflective coated solar covers are at a disadvantage because they reflect the sun's warm rays, preventing them from warming your pool water.
INSTALLATION IS EASY AS 1-2-3
Clear-Tek Solar Covers are easy to customize all you need is a pair of scissors! Cuts easily to fit any shape or size pool.