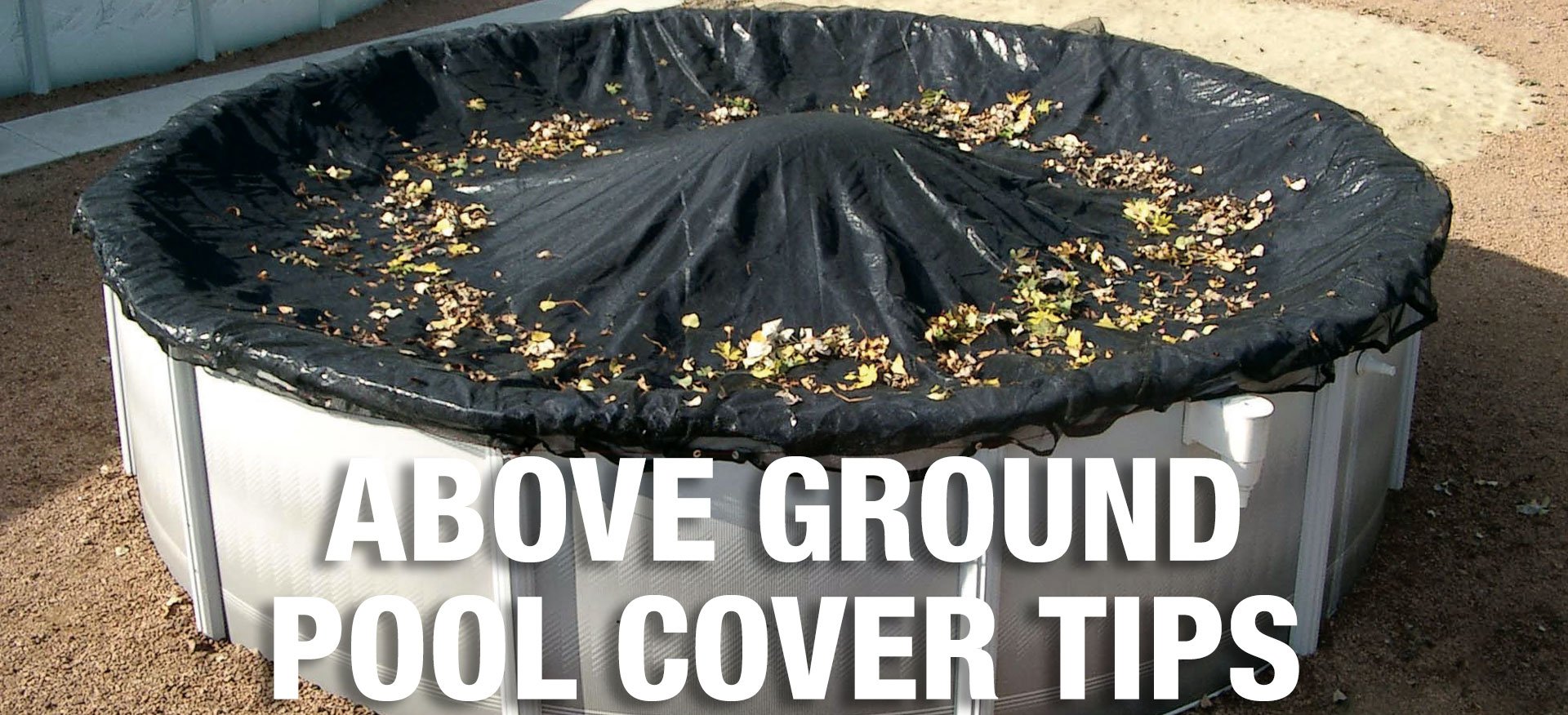 As fall approaches, pool owners are starting to think about winterizing their above ground pools. Whether you are looking for a cover to protect your above ground swimming pool during the winter months or a solar cover to heat the water and extend your pool season, Doheny's has what you need. Our experts have compiled a list of helpful tips for installing and using above ground pool covers.
Winter Pool Cover Tips
Above ground pool winter covers are a must to protect your pool from ice, snow, and wind. Follow these tips to get the most protection from your winter swimming pool cover.
Tip #1: Maintain the correct water level
When winterizing your above ground pool, lower the water level below the skimmer and return fitting. Since the winter cover will sit on the water, it is important to keep an eye on the pool water level throughout the winter to make sure that it doesn't drop more than an inch, as this can put stress on the cover and the pool walls. Add water under the pool cover with a garden hose as needed.
It is also important to keep an eye on the water that collects on top of the cover. Allowing more than about ½ inch of rainwater to build up can damage the cover and the pool, so pump excess water off regularly using a pool cover pump.
Tip #2: Use Pool Air Pillows
An air pillow is a super handy and affordable way to prevent a solid ice sheet from forming on your above ground pool. At pool closing, the air pillows are placed in the center of the pool and the winter cover is tightened on top of it, pressing it into the water. We recommend using enough air pillows to cover about 10% of the pool surface. Use a shop vac for quick and easy pool pillow inflation.
Tip #3: Windproof Your Pool Cover
Harsh winter weather, especially heavy winds, can cause major damage to your pool and pool cover if the edges of the cover are allowed to flap in the breeze. All winter covers come with a cable and winch that are used to secure the pool cover, but this is usually not enough to stand up to strong winds.
To keep your winter cover on tight, you have a few options. Pool cover clips keep the cover in place by clipping over the top rail. Another option is cover seal wrap, a heavy duty poly blend material that is wrapped tightly around the pool to secure the edges of the winter cover. Wall bags with grommets can also be attached directly to the winter cover cable to weigh down the cover, and they are a much more durable and attractive option than using milk jugs, a popular DIY method.
Tip #4: Save Time and Energy With a Leaf Net
A leaf net is a durable, yet lightweight net that can be installed on its own or on top of your winter pool cover. Leave the leaf net on the pool during the fall and simply remove it after all of the leaves have fallen, cleaning all of that dirty debris from the top of your pool in minutes. A leaf net is a no-brainer when it comes to protecting your pool and your pool cover without a lot of work.
Solar Pool Cover Tips
Solar covers are an affordable way to heat the water in your pool when the temperatures start to dip but you aren't quite ready to end your swim season.
Tip #1: Solar Covers Save Money
Using a solar cover on your swimming pool is smart for so many reasons. First, and most obviously, you are using free energy from the sun to increase your water temperature. But did you know that you will also save money on water and chemicals? Using a solar cover can reduce your chemical consumption by 35-60% and can decrease the amount of water that you need to add to your pool by 30-50%. And if you have a pool heater, a solar heater can help the pool to retain heat when it's not in use, cutting heating bills by up to 70%. Our solar covers are simple to install and can be easily cut to fit the size and shape of your pool.
Tip #2: Simplify Your Solar Cover With a Solar Reel
If you find that putting on and taking off your solar cover is inconvenient, then you are less likely to use it. But with a solar reel, the solar cover is rolled in and out with a manual crank that attaches to the top rail of the pool, making storage, removal, and installation super simple.

Whether you are looking for a cover for your above ground pool, inground pool, or hot tub, Doheny's has a wide selection of winter, solar, and safety covers for any pool size. Regular use of a pool cover can protect your investment, make the pool opening process easier, and decrease the amount of time that you spend on pool maintenance. If you have questions about our pool covers or any of our pool products, contact us today at 800-574-7665 or visit us online at doheny.com.